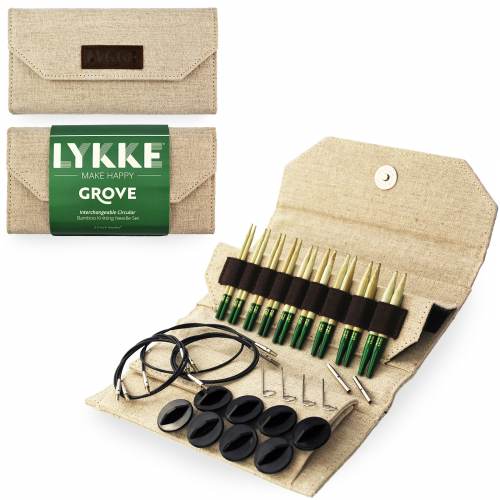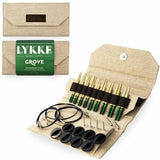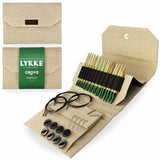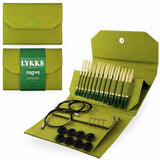 Lykke Grove Interchangeable Circular Knitting Needle Sets 3.5 inch and 5 inch
$100.00
Lykke Grove needles are bamboo knitting needles reimagined. The raw bamboo is treated with LYKKE's proprietary process which enriches the bamboo to strengthen and smooth it, as well as add a touch of green that evokes the feeling of bamboo just cut from a grove. This is accentuated with tasteful green caps with laser engraved needle sizes. Knitting with LYKKE's Grove needles will surely help you make happy! The natural beige jute canvas has a subtle and tasteful tweed effect.
The 3.5" needle tip length set includes nine pairs of needle tips in US size 3 (3.25mm) through US size 10.5 (6.5mm). The 3.5 set also includes four cords (two 16 inch, one 20 inch, and one 24 inch), two connectors, four keys, and eight stoppers. The 16 inch cord is ideal for knitting hats.
The 5" needle tip length set includes 12 pairs of needle tips in sizes US 3 (3.25mm), 4 (3.5mm), 5 (3.75mm), 6 (4.0mm), 7 (4.5mm), 8 (5.0mm), 9 (5.5mm), 10 (6.0mm), 10½ (6.5mm), 11 (8.0mm), 13 (9.0mm), and 15 10.0mm). The set also includes 5 Cords (two 24 inch, two 32 inch, and one 40 inch), 2 connectors, 4 keys, 8 stoppers.